TeLL-Net (Transfer Live Lessons Network) is an international network to transfer experiences and lessons of disasters across borders. It aims at playing a role to reduce the number of victims by preparation for future disasters.
11 groups and individuals from 10 countries participated in the TeLL-Net inauguration forum held on January 20, 2006.
Effort to prevent disaster and transfer lessons was introduced from the regions which experienced earthquake and tsunami such as Indonesia, Iran, Niigata, and Kobe.
TeLL-Net spreads information through the website and its network with its secretariat at Disaster Reduction and Human Renovation Institution (Kobe City). It also conducts various activities to reduce damage and victims of disaster.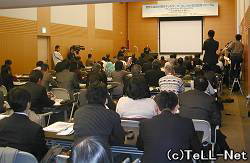 (Kick Off Assembly in January 2006)